2 August, 2016
Chicken Wings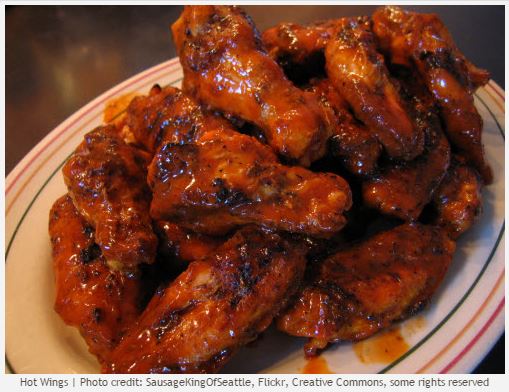 Posted in :
Starters
on
by :
Connell Cunningham
Tags:
chicken wings
,
wings
Chicken Wings
Print recipe
Hard to beat some wings. Really simple to cook in the oven and you can have them plain, buffalo or BBQ. Sometimes it's not easy to remember the sauce you used last time so here I have listed the BBQ and the hot sauce we use as well as the blue cheese dressing.
Ingredients
1kg Chicken wings (That's about 10 full wings - http://www.tesco.ie/groceries/Product/Details/?id=268469756)
Optional
1 bottle Frank's Red Hot Wings (Buffalo) Sauce (Spicy but good - https://www.franksredhot.com/products/buffalo-wings-sauce/)
1 bottle Paul Newman's Own Original Sticky BBQ (Great sweet and sticky - http://www.newmansown.co.uk/products/bbq-sauces/sticky-bbq-original-recipe.html)
1 bottle Heinz - Blue Cheese Dressing (For dipping the buffalo ones into)
Directions
Cut the full chicken wing into 3 pieces at the knuckles (or are they elbows).
The smaller end bit can be thrown out as there's no meat on it really.
Place on an over dish or tray and sprinkle with a good amount of salt and fresh ground pepper. Some like to add the sauce at this stage but you get crispier wings if you don't.
Place on the top shelf in an oven heated to about 180C. They will take about an hour in total.
Turn them over after about 20 minutes and again every 10 minutes or until they get to a nice golden brown colour.
To Serve:
Plain wings - Nothing wrong with eating them without sauce. Some don't like it hot so just dish them up in a bowl.
Hot Buffalo Wings - Place the wings you want to be buffaloed in a serving bowl and add the Frank's Hot Sauce. Be careful - it does have RedHot printed on the label. Serve with the blue cheese dressing on the side for dipping.
BBQ Flavour - For the BBQ flavoured ones you should add the Newman's Own Sticky BBQ sauce about 10 minutes before the hour is up. This gives them a chance to go nice and sticky before serving.
Any left over wings can be eaten cold later straight from the fridge or re-heated in the microwave.