26 April, 2014
Battered Pollock Strips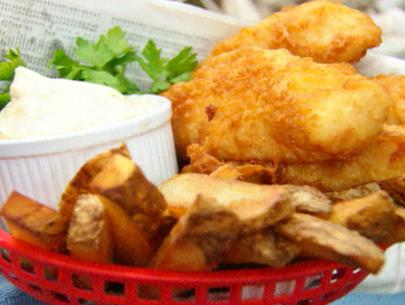 Posted in :
Fish
on
by :
Connell Cunningham
Battered Pollock Strips
Print recipe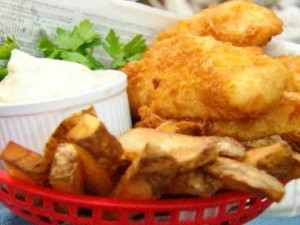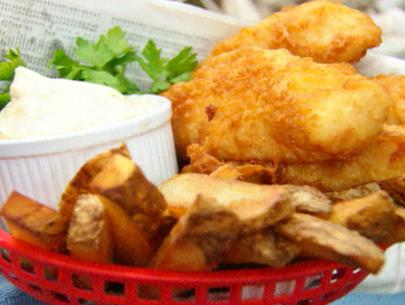 We always had a problem with what to do with the fresh Pollock we would catch on Galway Bay. It's not the tastiest fish but if you get a nice big one it has some really good meat on it. This batter originally from a Haddock recipe give a lovely light finish to the Pollock which can be crispy at the edges if cooked enough.
Ingredients
4 Egg Whites
200ml Cream
1kg Pollock (or other thick white fish cut into 5cm x 3cm pieces.)
500ml Cooking Oil
250g Plain Flour (Seasoned with salt and freshly ground pepper)
Note
Fillet the Pollock and remove the skin.
Directions
| | |
| --- | --- |
| | In a large bowl, whisk the egg whites to a light froth. |
| | Add the cream and fold into the egg whites to make a light batter. |
| | Heat the vegetable oil in a deep heavy-bottomed pan until a breadcrumb sizzles and turns brown when dropped in it. (CAUTION: Hot oil can be dangerous. Do not leave unattended.) |
| | Dredge the Pollock strips in the flour, then dip into in the batter mixture, and back in the flour again. |
| | Lower gently into hot oil (Careful) and cook until golden brown. Turn over half way through if oil not covering the fish. |
| | Remove from oil with slotted spoon and server with homemade chips baked in the oven. |